Beauty advent calendars for Christmas 2020
We earn a commission for products purchased through some links in this article.
Beauty advent calendars for Christmas 2020…Happy Shopping
Beauty advent calendars for Christmas 2020: Pamper yourself for 24 days
What Christmas will look like this year is still unclear to all of us, but what is certain is that we can pamper ourselves that little bit extra this holiday season. Advent Calendars are always a Christmas must-have, but during a partial lockdown, they might even be more valuable. What could be better than kicking off your long day at home with a luxurious beauty gift? This way we have something to look forward to every morning, which is a bonus during this time.
ALSO READ: Charlotte Tilbury comes this year again with a beautiful advent calendar
Which brands have a beauty advent calendar?
So many makeup, skincare and haircare brands have gotten involved in the advent calendar action. Plus, some of our favorite retailers including Selfridges, Cult Beauty, and Liberty have joined the fun, launching calendars packed with their best-selling products from a range of different brands they stock. So, whether you're loyal to one label and fancy picking up their entire range in one swoop (um, be sure to check out calendars from the likes of Clinique and MAC) or, prefer a mixture of brands' best-sellers stuffed behind those 24-doors, you certainly won't be short of choice.
Happy Shopping.
The best advent calendars of 2020 on a row. Buy your favorite quickly, because these Christmas classics are flying over the virtual counter.
BALMAIN Limited Edition 10 Days of Balmain Paris Hair Couture Advent Calendar 2020
A limited-edition advent calendar that provides you with hair care is all your haircut needs. Think from a mirror to Balmain hair products.
MOLTON BROWN Advent Calendar
Celebrate in style this year and count down to Christmas with Molton Brown's luxury advent calendar. Filled with intriguing new fragrances, bathing classics, and much more.
BENEFIT Shake Your Beauty 12 Day Advent Calendar
Benefit believes that happiness and laughter are the best
DR. BARBARA STURM Advent Calendar
Giving the gift of complete complexion transformation, the Advent Calendar holds 24 incredibly potent potions, lotions, masks, toners, cleansers, and serums. Here's what you'll find behind each of the doors.
Beauty advent calendars for Christmas 2020.
FINE JEWELLERY CAROLINA BUCCI Forte Beads advent calendar £750
Carolina Bucci's dark blue advent calendar is from the Forte Beads collection which is inspired by unique expression. The midnight shade of the box emulates the Tuscan night sky and opens to reveal 24 neat slide-out drawers, each one with two hand-carved beads in a wide range of semi-precious stones including jade, tiger's eye, and amazonite, complete with an 18kt gold bead with a textured Florentine Finish for the 24th. Thread each gem on the sparkling thread to create your own bespoke treasure.
Giant Advent Calendar
Giant Advent Calendar #1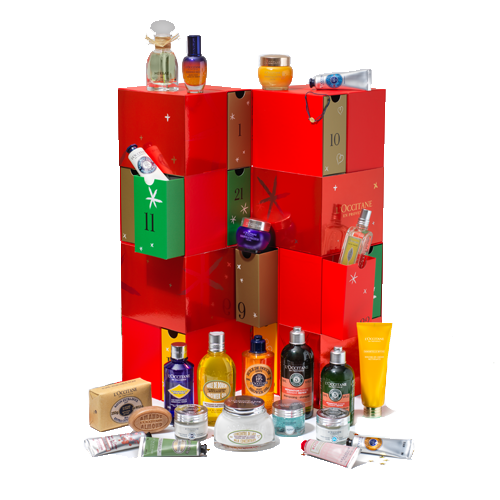 L'OCCITANE Giant Advent Calendar
The ultimate advent calendar to treat that special loved-one in your life.
View this post on Instagram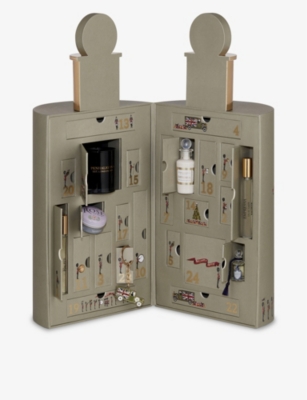 PENHALIGONS Brilliantly British advent calendar 2020
Penhaligon's have the ultimate luxury gift this year with their Brilliantly British beauty calendar. Shaped like a Penhaligon's fragrance bottle and tied with a Union Jack bow, the Fragrant Holiday Countdown has 24 fragrant treats including Luna Body Hand Lotion and Halfeti Body Hand Wash.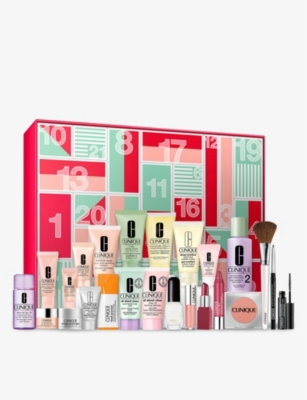 CLINIQUE 24 Days of Clinique beauty advent calendar 2020
Give it as a gift to your loved ones or do your own skin a favor. From care to make-up, everything is covered in the Clinique Advent Calendar.