The 8 best colorful eyeshadow palettes
We earn a commission for products purchased through some links in this article.
The 8 best colorful eyeshadow palettes for beautiful eye looks
With these bright, colorful eyeshadow palettes you can go crazy.
ALSO READ: Nars Cosmetics Orgasm X Collection
Eye-catching eye shadow only for a special occasion? No, we even pull our bright eyeshadow palettes out of the closet during an evening doing nothing. Because how wonderful it is to spend all evening in front of the mirror experimenting with beautiful eye looks. To be fair, not every eye look is suitable to wear to school or the office, but nevertheless it is nice to play around with the application of colorful eyeshadow. No eyeshadow palette with all the colors of the rainbow in your house yet? Then view our favorite eyeshadow palettes with the most beautiful, bright colors here.
The 8 best colorful eyeshadow palette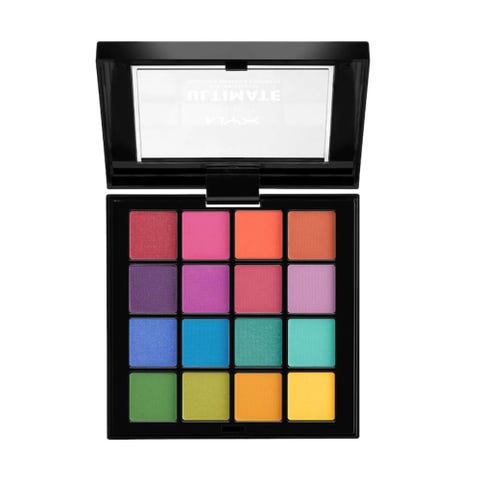 NYX Ultimate Eyeshadow Palette
The 16 colors in this palette are alternately matte and glossy. In addition to the rainbow colors, the palette also contains some neutral colors, making it ideal for everyday use.
ALSO READ: applying quick eyeshadow
ANASTASIA BEVERLY HILLS Norvina Pro Pigment Palette
T his all-new Norvina Pro Pigment Palette unites 25 supersized pans of high-performance shadows for professional grade artistry with maximum colour payoff.
TOO FACED Pretty Rich Diamond Light Eye Shadow Palette
A jewel box, but not as you know it: this precious palette contains a wealth of gem-toned treasures.
VISEART Eyeshadow Palette Satin Finish
they're the secret to achieving professional results at home.
Urban Decay Wired Eyeshadow palette
Besides that this palette just looks very nice, the colors are also very well pigmented and you can make the most beautiful looks wit
MORPHE 35O3 Fierce By Nature Artistry Eyeshadow Palette
Ranging from shimmering brass 'Mesmerize' to matte cinnamon 'Savage' and hot fuchsia 'Unstoppable', each of the 35 creamy shadows in the 35O3 Fierce By Nature Artistry Eyeshadow Palette are seriously crush-worthy.
NARS Afterglow Eyeshadow Palette
A real head-turner, NARS' limited edition Afterglow Eyeshadow Palette is a palette to admire
NATASHA DENONA Love Eyeshadow Palette
this trend-setting yet user-friendly make up line has become a worldwide phenomenon.